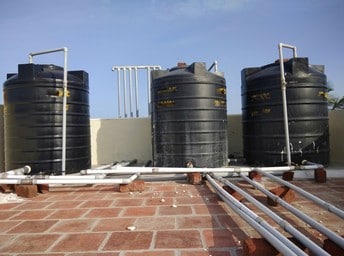 Do you live in Beenleigh and have a water tank for home or garden use? Is your water discoloured or smells different? How long has it been since you had it cleaned and sanitised? The experts at Water Tanks Cleaners in Brisbane can help ensure your Beenleigh water tank is safe and ready for use all year round.
Why You Should Clean Your Water Tank
Anywhere that there is water, there is a chance for bacteria or waterborne diseases to grow.  Water tanks easily collect silt, bugs, debris from trees and guttering and on occasion even a wayward rodent. For the health of your family, you need to regularly clean the tank so that the water it contains stays as clean and fresh as possible.
Cleaning your tank also prolongs the life of your filters and pumps as well as the tank itself. It is recommended that for optimal longevity of your tank, its components and water quality that your tank be cleaned every 2-3 years. Should you notice a change in the colour, smell or taste of your water, however, it should be addressed immediately.
Why Choose Us?
The experienced and friendly team at Water Tanks Cleaners in Beenleigh are both professional and reliable. Our quality services include vacuuming, tank maintenance as well as cleaning and sanitising, with three sanitisation options available depending on your needs. We are a family-owned and run business with years of experience in safely and expertly cleaning tanks in Beenleigh and all over South-East Queensland.
We are committed to offering affordable and properly executed tank cleaning for our clients. We offer a 10% discount for new customers with a free quote and inspection carried out prior to any work beginning.
For exceptionally clean, safe and great tasting water, contact the professionals at Water Tanks Cleaners in Beenleigh on 07 3186 2066.